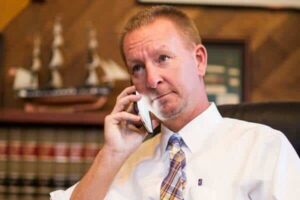 When you're seeking legal representation for a criminal offense, the best person for the job is a criminal attorney with former prosecution experience. There are many reasons why a former prosecutor makes for the best choice as your criminal defense attorney. In this article, we'll discuss what a prosecutor is, and what gives them the specialized knowledge and experience that can benefit your criminal case.
What Is A Prosecutor?
A prosecutor is an attorney that legally represents the government in cases where criminal charges have been brought on an individual or a corporation due to an alleged crime. It is the prosecutor's responsibility to collect and present all the factual evidence in a case in order to convince a judge or jury of the defendant's guilt. The only responsibility the defense attorney has is to present the best defense for their client. Therefore, when you have the chance for legal representation by an attorney who has both prosecution and defense experience, you have the best chance for a knowledgeable defense.
This experience on "both sides of the fence" is the number one reason a former prosecutor is so valuable as your criminal defense attorney.
For a free legal consultation, call (719) 440-6720
Other Benefits of Having a Former Prosecutor as Your Criminal Defense Attorney
As you can imagine, a criminal defense attorney with prosecution experience is the best of both worlds. But the benefits certainly don't end there. Here are several additional reasons you want your criminal defense attorney to have this valuable experience:
Extensive Courtroom Litigation Experience – You might be surprised to know that 97% of all legal cases will settle outside of a courtroom. That means that only the really difficult cases – cases like yours – go to trial. Most attorneys spend the majority of their legal career negotiating with insurance companies for settlements, not litigating in front of a judge and jury for the rights of their client.
Double the Experience – As we've discussed, a former prosecutor has experience in both prosecution and defense law. They will have experience in the methods the prosecution uses to collect evidence, choose the charges to file, and they'll be able to target the prosecution's weak points, resulting in a stronger defense for your case.


A former prosecutor will be much better able to negotiate plea bargains and they'll have an intuition on how far they can pressure the district attorney. They'll know never to accept a first plea bargain offer because there are far better terms to negotiate for.

A Former Prosecutor Can Competently Handle a Heavy Caseload – A prosecutor normally has a very heavy caseload from the state so they're much better equipped to be able to juggle a lot of cases. They'll be able to give each case the attention that it deserves because they are usually more organized than a defense attorney who only gets clients when those clients seek them out.
A Former Prosecutor Has Experienced the Specific Procedures of a Criminal Trial – The procedures and protocol involved in defending someone accused of a serious crime are complicated. Successfully arguing before a jury isn't something just any attorney can do, and due to the nature of their experience, a former prosecutor has had many hours in front of a jury.
The Trial Process
As we noted above, an attorney with experience as a former prosecutor has a multitude of experience with courtroom trials. They are also intimately familiar with the process and protocol that need to be followed in order for everything to go as smoothly as possible at the trail. The trial process can be lengthy and arduous, and it pays to have a lawyer on your side who won't be surprised by anything that happens.
Various aspects of a jury trial include:
Pretrial Motions – Before the beginning of the trail, but after the initial hearing, both the prosecutor and the defense team will appear in court before the judge to request pretrial motions. These requests are varied and can include a request to withhold specific evidence from the trial, request dismissal of a case, or request that certain people not be allowed to testify.
Jury Selection – It can be said that the selection of the jury is one of the most important parts of a trial. There are several things that would make one unfit to be a juror such as personal biases, which would affect that juror's ability to make a fair and impartial decision. If the defense attorney believes a juror should not serve, it is their responsibility to bring this challenge for cause to the judge and explain the relevance of their belief. The judge will then make a decision on whether the person is fit to be a juror.
Arguing the Case – There isn't anywhere else that the choice to hire a former prosecutor will become so clearly apparent as the correct choice. There can be no comparison because a criminal defense attorney who has served on both sides of a criminal case will logically be the best prepared, most experienced, and most knowledgeable regarding court processes and procedures.
Click to contact our personal injury lawyers today
An Accomplished Strategist
A criminal defense attorney who also has extensive prosecution experience has valuable insight into how the district attorney will view your case. Their unique perspective into how the other side sees things will make them a valuable asset to your defense. A former defense attorney is an accomplished strategist – and strategy is vital to the success of your case.
Complete a Free Case Evaluation form now
Familiarity with the Local Courts
Finally, because a former prosecutor has extensive experience trying cases within your local jurisdiction, they will already know the courtroom personnel and their individual personalities. They'll be familiar with each judge's biases and legal opinions. They'll have knowledge of prior rulings, and they'll be intimately familiar with which judges are tough on what types of cases. With this knowledge, they're much more valuable when it comes to knowing whether or not you should accept a plea bargain, or go on to trial.
Attorney Christian Schwaner has two decades of legal experience and has extensive experience as a prosecutor before becoming a criminal defense attorney. Contact him today for a free and confidential consultation by calling 719-577-9700, or filling out his contact form here.
Call or text (719) 440-6720 or complete a Free Case Evaluation form